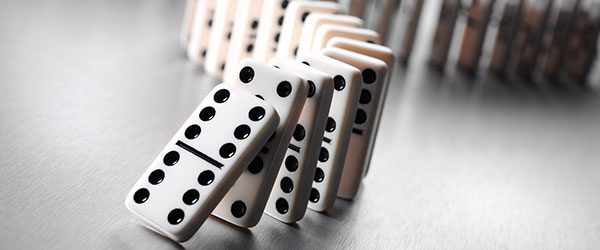 All for one, six for all
These 6 dominoes have to surely create a chain reaction for volunteering and multi-sector collaboration.  A NFP, Volunteering Victoria, 4 universities; Curtin University, Flinders University, Macquarie University and Victoria University, and the Australian Government, will work together to run a study on volunteering.
The collaboration of Non-for-profit, the academy and the government is certainly an illustration of multi- sector cooperation towards the achievement of a common goal. In this next case, we are seeing an example of not three representatives but double that amount.
We look forward to knowing the results of this study, not only because it will be significant for the advancement of volunteering in Australia, but also to get the insights of the leaders who are making possible such a big collaboration. If we analyse this alliance from the biz field, could this be a study case for fostering multi-businesses domino effect?
This is the announcement that was made in one of the partner's website.
For more information, please contact the source mentioned below.
Source: Volunteering Australia