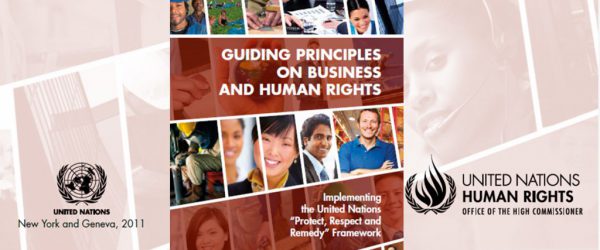 Building Australian capacity around business and human rights
27 October, 2015

Created By:

Categories:
While governments have primary responsibility to protect human rights, over the last decade, an increasing focus both internationally and domestically has been given to the impacts – both positive and negative – that business has on human rights.
The UN Global Compact asks companies to respect human rights – that is, to not infringe on human rights. It also encourages companies to go beyond this minimum standard of "do no harm", and find opportunities to support and advance human rights, for example through social investment, advocacy and engagement in public policy, collective action and philanthropy.
But what does this mean, and how are Australian companies tracking?
What are human rights?
To set the scene, it's important to first understand the breadth of issues that can fall under the banner of human rights – working conditions, non-discrimination, gender equality, Indigenous rights, culture, health, water, education, security and privacy, to name a few – and business can impact positively and negatively on all of them.
What is expected of business?
The UN Guiding Principles on Business and Human Rights [PDF] are the authoritative global standard and key reference point for businesses on how to respect human rights. In particular, the UN Guiding Principles ask companies to put in place:
a policy commitment to respect human rights – this can be a standalone human rights policy, or be incorporated into other corporate policies;
an ongoing human rights due diligence process to identify, prevent, mitigate and account for how they address their impacts on human rights; and
processes to enable the remediation of any adverse human rights impacts they have caused or contributed to.
How are Australian companies tracking?
To take stock of where Australian businesses are at in relation to human rights and to move the national agenda forward, the Global Compact Network Australia and Australian Human Rights Commission convened the second multi-stakeholder, multi-sector Australian Dialogue on Business and Human Rights in August 2015.
At the inaugural national dialogue in 2014, we could see that the discussion had already largely moved beyond "why" businesses should respect human rights, to practical questions around "how" to effectively do so.
In 2015, the focus of the discussion shifted to issues of corporate leadership, strengthening human rights due diligence processes, translating human rights into business operations, embedding human rights across functions, and transparency. Significant work has also been done by a number of Australian companies to map and take action to address human rights issues in their supply chains. The 2015 Dialogue highlighted health and safety as one area of human rights that Australian businesses have embraced and internalised, which could be used as a model for engagement with the broader human rights agenda.
In addition to businesses taking action to address negative impacts, many are also realising the opportunities that positive engagement with human rights can bring in a broad range of areas. One example is Indigenous engagement, with a growing number of companies adopting Reconciliation Action Plans. Another area is gender equality, with companies increasingly seeking to tackle complex issues such as domestic violence.
Key challenges to scaling up good practice continue, though. While a number of Australian companies are leading internationally on human rights, there are others who are not yet engaged with the agenda at all, as evidenced by corporate human rights infringements being highlighted in the media not infrequently. An opportunity also exists to engage and build the capacity of Australia's SMEs on human rights.
From the GCNA's work in this space, it is apparent that Australian businesses do increasingly understand their human rights-related risks, responsibilities and opportunities, across all sectors. With growing pressure being put on businesses to "know and show" that they are respecting human rights, we expect momentum and engagement to continue building. For listed companies, we are also seeing a growing movement in the investor community to question companies on their human rights performance, and even divest shares where company responses are not adequate, which will also keep the pressure on.
How can you learn more?
In 2010, the Global Compact Network Australia established the Human Rights Leadership Group as the first formal Australian platform for business to engage with peers and stakeholders and build capacity around human rights. Through its Human Rights Leadership Group, the GCNA continues to lead the national dialogue on business and human rights.
To keep up to date and hear about upcoming activities, sign up to the GCNA newsletter, or get in touch to find out more (secretariat@unglobalcompact.org.au).