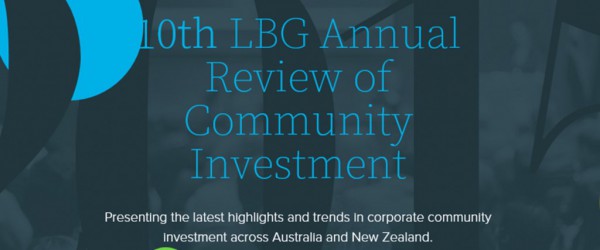 Corporate Contributions Up By $34 Million
3 February, 2016

Created By:

Categories:
Data collected by companies like ANZ and Coles has found a lift in their total community support in 2015, Simon J. Robinson reveals.
Corporate community investment (CCI) is on the rise, according to analysis by the London Benchmarking Group (LBG) of data collected by 49 of its member companies including Suncorp, Wesfarmers and Origin Energy.
Pleasingly, total CCI exceeded $222 million in 2015 – $34 million more than in 2014 –companies reported spending $228,000 a year on average with their flagship partners. This was in spite of economic uncertainty, when often the initial reaction can be to cutback on corporate community investments.
Assisting in the lift is corporates' recognition of CCI as a way to gain a competitive edge globally. Their employees are more engaged when they can donate to their chosen causes through workplace giving, and join in volunteering programs where they learn new skills, experience improved wellbeing and report being moremotivated at work.
Average contribution per employee was $651 (compared to $573 in 2014), participation in workplace giving has doubled from 3.5% in 2014 to 7% in 2015. Meanwhile corporate volunteering hours have increased 40%, with employees contributing 832,750 working hours, up from 498,077 in 2014.
Explains Sascha Coglan, Sponsorship Manager for the Suncorp Group, "To our people, CCI is not only about the impact on local communities, it is a way for them to actively connect and support their local communities through participating in volunteering activities and other corporate giving programs. As a result, our people are highly engaged, motivated and we have seen an improvement in our employee's wellbeing – something that's incredibly important to us."
Health causes gaining the spotlight
In terms of a share of CCI among different cause areas, this year education (22%) and social welfare (26%) maintained their top places. But support for health-related causes and initiatives jumped to 23% of total CCI, up from 16% year-on-year.
This change to where CCI is directed can partially be attributed to companies increasingly aligning with causes that align to their own strategic objectives.
Jo Ferrie, Manager Social Investment of Woodside Energy, says: "Being more disciplined in our analysis and the way we measured our contributions, we have ensured our investments are better aligned to our strategic objectives and those of the communities we support. This has given us confidence to know our funds are being allocated appropriately and achieving meaningful impacts."
Closing the global 'gap'
For the tenth year running, the corporate giving of Australian and New Zealand companies fell behind the rest of the world, particularly Europe. There are signs that the gap is closing, though, with the levels of pre-tax profit that local companies dedicated to CCI rising from 0.49% to 0.61%. The global LBG group reported 1.1% of pre tax profits.
The Corporate Sustainability and Community Manager at ANZ, Janet Liu, says: "As a nation, we have traditionally lagged behind corporate giving in other countries. But we're catching up fast."
The real challenge for companies (and charities who seek their support) will be maintaining this rise in corporate giving for the next few years, in the face of financial uncertainty.
What else is around the corner for CCI?
The LBG framework provides companies with one globally recognised framework to measure, assess and report on their community programs.
This year, for the first time LBG will trial LBG for Community. This revised framework was developed by LBG Spain with not-for-profit organisations, to measure and manage community contributions by not-for-profits and gather benchmarking data.
To find out more, visit www.lbg-australia.com or contact Simon Robinson,  simon.robinson@haystac.com.au