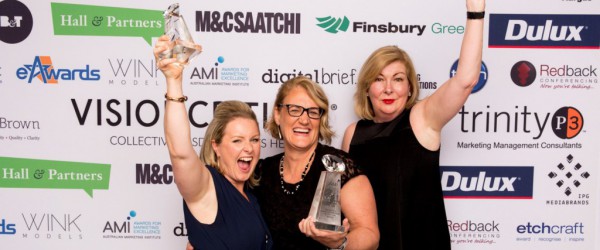 CSR at the 2015 Awards for Marketing Excellence
Corporate Social Responsibility (CSR) is an important topic which needs to be seriously considered by the marketing industry. This is one of the reasons why the Australian Marketing Institute has continued to include CSR as an award category for a number of years in the Awards for Marketing Excellence.
The category awards those marketing campaigns showing a positive impact in terms of community or social benefits as a result of activities by the organisation aimed at contributing to the broader community or the sectional interests in need of support.
Five finalists were chosen within the CSR category award, announced in Melbourne on the 22nd of October at the Grand Hyatt. Those finalists were;
Beware Of The Greyhound – Together Creative Pty Ltd & Greyhounds As Pets
People's Choice Community Lottery: An online transformation – People's Choice Credit Union & Together Creative Pty Ltd
Stroke Solidarity String & Australia's Biggest Blood Pressure Check – National Stroke Foundation
Don't Trust Your Tired Self campaign – Transport for NSW
Emerging Aboriginal Artists, Revealed – The Hub Marketing
The winner was revealed as the 'Emerging Aboriginal artists, Revealed' campaign by the Hub Marketing on behalf of the Department of Culture and the Arts in WA.
In WA, there are more than 4,000 Aboriginal artists and 29 Art Centres. Global downturns have triggered devastating falls in the Aboriginal art market, proving to be a very difficult time to be an Aboriginal artist. Aboriginal-owned Art Centre's are among the most positive enterprises in remote communities. The Department of Culture and the Arts in WA recognised a new approach to opening markets and reducing isolation; thus 'Revealed' was created. 'Revealed' is an exhibition, marketplace, symposium, and professional development program for Western Australia's emerging Aboriginal artists.
The marketing of Revealed focused on the revenue generating elements being the exhibition and marketplace, with artists and their stories leading the campaign. On a tight budget, smart, result orientated marketing tactics were required to boost audiences and drive sales.
On the eve of the Awards for Marketing Excellence, the Australian Marketing Institute also announced its support to UnLtd., an organisation dedicated to undoing youth disadvantage.
UnLtd. is the only not-for-profit foundation representing the Australian marketing industry.  UnLtd. assists 64 different charities that provide hope to young people suffering from abuse, neglect, homelessness, illness, grief and trauma.
Click here for more information on Unltd. and how you can help the cause.