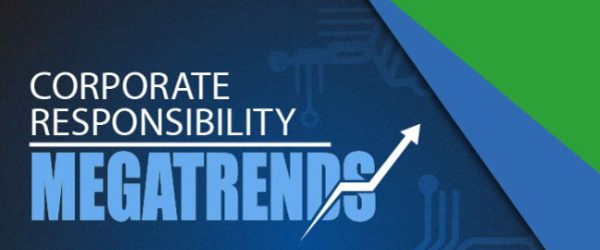 Corporate Responsibility Megatrends- The Road To 2020+
Learn more about each megatrend and find case studies at the end this infographic.

Corporate Responsibility Megatrends- The Road To 2020+
Generation Z
The Gen Z, iGen or Post-Millineas is already here! In 2020 they will be between 20 and 25 years old and they will be the new driving force in the workplace and the commercial market. Differently than their predecessors, they were born with an iPad in their hands, they are truly global, and they see CSR in a much more pragmatic way.
They will demand more flexible work environments and wellness programs. They will demand more ethical and sustainable products and services and are willing to pay a premium for it. They will favour companies that are "doing good" given that they are involved in social change programs since very young age themselves.
Case study– UN Youth Australia is an organisation that aims to educate and empower over 15,000 young Australians on global issues each year. It is run by a team of over 1,000 volunteers, all aged 16-25. They organise conferences, summits and other events, and coordinate international education tours. Their work is rooted in the belief that young people can and do make a difference in their communities. They foster ideas and innovation, and give young people the inspiration and support they need to create change.
Global diversity, inclusion and education
Diversity and inclusion has grown as a corporate secret to innovation, and senior executives have become devoted champions of it. According to an SHRM study, in almost half of the cases, the CEO or the senior management are responsible for leading diversity initiatives. They have realized that it really pays off.
In terms of gender inclusion, the problem comes when trying to place women in relevant tech positions when the studies show a shortage of women with engineering and technology degrees. Thus, STEM education for girls become a main concern in order to solve the equation.
Case study– Apple has stated its belief in equality for everyone, regardless of race, age, gender, gender identity, ethnicity, religion, or sexual orientation, considering their employees' diverse backgrounds and perspectives vital to spark innovation. In the past year they hired 65% more women than in the previous year globally, and in the US they hired 50% y 66% more black and Hispanic employees respectively. They have committed to hiring more inclusively and choosing partners who make diversity a priority.
Shared Value
Although it is something that companies have practiced for years, it's thanks to Kramer and Porter, who coined the "Shared Value" term, that companies are increasingly delivering initiatives that address societal or environmental problems while adding value to the business and the shareholders. In other words, a win-win for everyone!
Given its recent making, there are a few but splendidly executed studies published, such as the one carried out by the Shared Value Project, which demonstrates that this kind of initiatives truly contribute to the society and to bottom line results.
Case study– Through their shared value program "Prime Technology for Our Community", DS PRIMA has worked on a pro-bono basis with OPSMC in order to apply its software development capabilities to build a solution that will contribute to monitor patient's health progress while allowing practitioners and clinical researchers to evaluate the effectiveness of treatments and medications as well as to improve healthcare services. This has enabled DS PRIMA to enter the underserved market of electronic patient-reported outcomes tools in Australia through PromptusTM
Circular economy
Re-thinking and re-designing the way we make stuff so we go from "Cradle to Grave" to "Cradle to Cradle", and using renewable energy is putting the most inventive minds of innovative companies to the test towards 2020. How to maximise the use of resource inputs and minimise their wastage?
Although electronics is not the only industry to which this model can be applied, it is certainly one of those with more opportunities. Very little e-waste is recycled and chances to reduce remanufacturing costs are countless. The key is in the product design phase, and one of the biggest challenges is to build collaboration in a way that users can return their used products so companies can recycle them.
Case study– Rescatec is a Mexican company that helps to deploy, recover, restore, reuse, resell, donate and recycle electronic assets. They have an agreement with Microsoft and other companies to handle this waste. Between 2014-2015 a waste of nearly 50 million analogue TVs was generated in Mexico given the end of life of analogue TV, thus, the role of e-waste recycling companies increased considerably. E-waste recycling has also helped to provide low-income and disadvantaged communities with technology they wouldn't have access to otherwise.
Ethical Supply Chains
Supply chain plays a critical role in the performance of innovation-focused companies in order to deliver superior products and services in an ethical and environmentally responsible manner. In doing this, assurance and transparency can be challenging to achieve.
Customers are more aware of ethical compliance than never before. They are willing to give up on their favourite electronics and punish their manufacturers if they are not ethically behaving, however, they are also keen to reward those suppliers that are doing a good job in terms of labour conditions, environmental measures, diversity, among others.
Case Study– After facing ethics compliance violations before their merger, France-originated Alcatel-Lucent has adopted a strict zero tolerance policy regarding corruption and bribery. They have also applied several measures in their global supply chain operations which includes over 2,000 suppliers. Some of those are: anti-corruption screening, product traceability on conflict minerals, risk and sustainability assessment, and supplier diversity initiatives, the former one for which it was named among the Top Corporations by the Women's Business Enterprise National Council (WBENC).
Internet of Things (IoT)
Although applicable to several other areas, IoT –the digitalization of our physical world, has an enormous potential to contribute to the advancement of health; one of the most noticeable problems of our modern society.
The opportunities to reduce costs of treatments and improve quality of life by using devices interconnected in the cloud, are as important as the challenges IoT faces to reach its full potential. Studies show that this is a market that will grow exponentially in the coming years.
Case Study– Roche in partnership with SAP, created a preventative care package called Accu-Chek View. This includes a blood glucose monitor, a wearable fitness tracker, and an app that are all integrated together through IoT. Patients can monitor glucose levels at home and transmit the information to the doctor's office via the app. The doctor can monitor the patient remotely, and the patient can communicate with the doctor's office. This eliminates unnecessary trips to the physician, saving time and money.