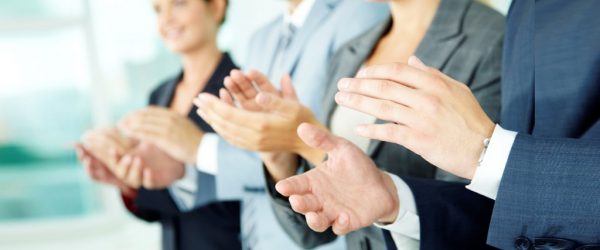 Distinctions among members of the Global Compact Network Australia
7 October, 2015

Created By:

Categories:
The Global Compact Network Australia (GCNA) has over 60 members. These organisations are recognised industry role models that demonstrate ways to apply the Global Compact's Ten Principles for Corporate Sustainability. Not only have they taken on the challenge of adopting these principles into their internal operations, they are striving for a ripple effect that will generate widespread positive social and environmental impacts. And they are being recognised for it.
Now, while it would be great to highlight every award and certification that each and every GCNA member has achieved in the past ten years, such a list for this group of overachievers would be incredibly lengthy. So instead, we will mention but a few of the numerous organisations and some of their most recent achievements.
In this article, we will provide a snapshot of the praises won by these flagships of Corporate Social Responsibility. Following each achievement will be a link to the UN Global Compact Principle that has been fulfilled, thus linking aspirations with practical examples of best practice, which hopefully provide inspiration for your business.
Let's look at… Commonwealth Bank of Australia
The Commonwealth Bank of Australia takes their social and environmental responsibilities seriously. This is evidenced, not only by the work they do in communities, but by recognition both internationally and locally. In 2015, CBA ranked 21st in the G100, a global index identifying and ranking the world's most sustainable corporations. This identified CBA as the most sustainable company in Australia, and the second most sustainable bank in the world.
In 2015, the CBA Group was named the 4th most inclusive employer for the second year in a row in the Australian Workplace Equality index. And no wonder: 3% of CBA employees identify as LGBT, 44.4% identify as having a cultural background other than Australian, and the age range of people working at the CBA is from 16-77 years (as stated on the CBA website). During 2015, the CBA became a signatory to the United Nations Women's Empowerment Principles and hosted Australia's first summit on these Principles. The CBA was also recognised as an Employer of Choice for Gender Equality by the Workplace Gender Equality Agency (WGEA) in 2014. [Principle 6 regarding elimination of discrimination at the workplace)
The CBA also works to ensure their supply chain is fair and sustainable, giving preference to international suppliers holding recognised certification such as ICTI, BSCI or SA8000. Also, they focus on supporting local suppliers and supply-chain diversity, and have used certified Indigenous-owned suppliers for a wide range of products and services since 2009 (explained in the CBA 2015 Sustainability Report). (Principle 2 about making sure the business is not complicit in human rights abuses)
Now let's consider a smaller scale trailblazer… Yarra Valley Water
In 2014, Yarra Valley Water's 'Choose Tap' program won the International Water Association's (IWA) Marketing & Communications Category in the 2014 IWA Asia Pacific Regional Project Innovation Awards. This program advocates the benefits of tap water over bottled water and works in partnership with local councils and organisations to install permanent water bottle refill stations. (Principle 9 on growing environmentally friendly technologies)
In 2016, Yarra Valley Water will also reach the 20th anniversary maintaining an ISO 14001 certified Environmental Management System. First certified in 1996, the organisation is audited every 6 months to ensure their activities are always performed in an environmentally friendly way. Such outstanding commitment and dedication to meeting environmental responsibilities are the qualities of a true industry leader. (Principle 7 on approaching environmental resource use with caution)
As for Australia's educational institutions… University of Melbourne
In 2014, the University of Melbourne worked hard to meet its commitment to environmental sustainability. In doing so, it received, together with its installation contractor, the Master Electricians Australia's Excellence Award (Vic/Tas) – Commercial Project of the Year 2014 for Australia's first electronic dynamic voltage optimisation unit installed at the Law building. The University increased its bicycle parking spaces to 2,200 (up from 1,600 in 2011) to facilitate and promote more environmentally friendly transport choices among its staff, students and visitors. (Principle 8 on promoting widespread environmental responsibility)
During 2014, the University also had external auditors conduct a recertification audit of their Occupational Health and Safety Management Systems against the criteria of the NAT and AS4801. External review and Certification is important for transparency and ensures that the important task of protecting health and safety workplace rights is performed rigorously. (Principle 1 on supporting and protecting human rights)
And in the food industry… Nestlé
2014 saw Nestlé top Oxfam's Behind the Brands ranking, which assesses companies across seven areas, including women in the supply chain, transparency, farmers and land rights. This achievement may have been assisted by the extensive auditing the company performed in 2014, 8,700 of their 10,000 Tier 1 suppliers, 73% of which fully complied with their Supplier Code. (Principles 3 & 4 on fair workplace conditions)
Nestlé also works with the Fair Labor Association (FLA) to identify the extent of child labour in their cocoa supply chain to understand the causes and respond with remedial actions. By the end of 2014, Nestlé's Child Labour Monitoring and Remediation System covered 22 cocoa co-operatives, sensitising 12,458 farmers and 35,736 community members to child labour. (Principle 5 on abolishing child labour)
Not-for-profits with much to be proud of… WaterAid
WaterAid is a socially and environmentally focused not-for profit – a focus which essentially automatically checks of the majority of Global Compact's Principles. However, even not-for-profits with the best of intentions must be accountable. This sector is not immune to corruption, and donors need to know that their dollars are indeed contributing to the causes they were intended for. In recognition of this, WaterAid had their 2014 Annual Financial Report and statements audited by an external third party. (Principle 10 on corruption prevention)