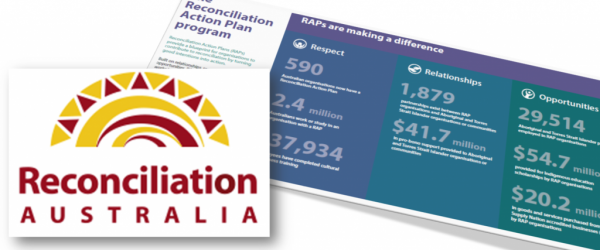 Driving reconciliation in the corporate sector
17 September, 2015

Created By:

Categories:
Over the past decade, the landscape of Australian employment, cultural understanding, procurement and community based partnership has begun to shift. Some of Australia's biggest corporates are embedding reconciliation into their everyday business—committing to supporting Aboriginal and Torres Strait Islander employment, business and education and creating culturally sensitive workforces. Many of these actions are, in large part, due to Reconciliation Australia's Reconciliation Action Plan (RAP) program.
Through the program, companies from across the country are supported to develop a RAP—a blueprint to realise their vision for reconciliation. RAPs set out meaningful and sustainable actions built on relationships, respect and opportunities. They are developed in close consultation with a working group to meet the needs of each organisation and assist to develop genuine, lasting partnerships with Aboriginal and Torres Strait Islander peoples.
The RAP program was launched in 2006 with just eight forward-thinking corporates. Now, nine years on, the RAP community has grown to more than 600 Australian businesses, institutions and not-for-profits. At the forefront of this movement for social change are 13 Elevate RAP partners, who have committed to taking their reconciliation obligations to the highest level.
Something RAP partners at all stage of their reconciliation journey have learned is that reconciliation takes patience—changing Aboriginal and Torres Strait Islander employment figures takes leadership and changing the culture of a workplace takes commitment. However, the results of the latest RAP Impact Measurement report, released earlier this year, show the positive results RAPs has driven. The report reveals that:
RAP organisations have employed 29,500 Aboriginal and Torres Strait Islander Australians
More than 2.4 million Australians work or study in an organisation that has a RAP.
RAP organisations have contributed $55 million towards education scholarships for Aboriginal and Torres Strait Islander students
RAP organisations have purchased $20 million worth of goods and services from Supply Nation accredited businesses.
These are impressive figures and they demonstrate the collective and significant impact RAPs have in communities across the nation. They are proof of the ability of a RAP to give every day Australians an entry point into the reconciliation journey that they may otherwise not be able to navigate.
It's clear that developing a RAP is not just about producing a glossy corporate document—it is about creating real change for all Australians
As the 10 year anniversary of the RAP program approaches and as we journey toward recognising First Australians in our Constitution, we must continue the momentum for reconciliation. We know we have the tools to achieve our vision for reconciliation. We have more than 500 RAPs in development; we've just launched a new program, Narragunnawali, to build reconciliation in schools; and we've got more corporates than ever taking their place in the reconciliation process. These are the actions that will drive us toward a reconciled, just and equitable Australia.