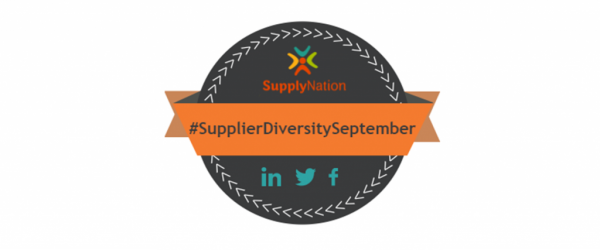 Re-engage with Indigenous business suppliers
28 August, 2015

Categories:
Supplier Diversity September is here!
If your organisation is committed to procure products or services from Aboriginal and Torres Strait Islander businesses, this is something you want to be part of.
For the second time, Supply Nation (formerly known as Australian Indigenous Minority Suppliers Council, AIMSC), is organising their annual Supplier Diversity September campaign to educate the nation about supplier diversity.
Also referred as #SupplierDiversitySeptember, it is considered an easy, fun and rewarding way to re-energise our organisation's supplier diversity efforts.
Supply Nation invites to take some time to engage or re-engage with Supply Nation's corporate and government members, Certified Suppliers or Registered Businesses by participating in their innovative online campaign. What we are asked to do is to get involved by:
Referring a corporate or government member or Indigenous business to Supply Nation
Mentioning our involvement in our newsletter
Posting on social media about our engagement
Investing in our supplier diversity program
Re-engaging with a member or Indigenous business
Writing a blog for the #SupplierDiversitySeptember website.
Setting ourselves or someone else a Supplier Diversity challenge
Celebrating our wins
Supply Nation is the Australian leader in supplier diversity, established in 2009 to connect Australia's leading brands and government with Indigenous businesses across the country. It holds a rigorous registration and certification processes to ensure their members can be confident of Indigenous ownership.
To fulfil targets in the Indigenous Procurement Policy, government has mandated that its buyers consult Indigenous Business Direct to access Indigenous businesses.
Supply Nation's board is chaired by Leah Armstrong, former CEO of Reconciliation Australia and a member of the Prime Ministers Indigenous Advisory Council.
Why is this so important? Well, as Reconciliation Australia states in their Module 5 called Diversifying your supply chain, of their Workplace Ready Program; including Indigenous businesses in our supply chain can bring great benefits. It can contribute to greater competition, achieve cost efficiency, increase speed of delivery and, very importantly, it demonstrates our genuine commitment.
Let's engage or re-engage with our Indigenous business suppliers!