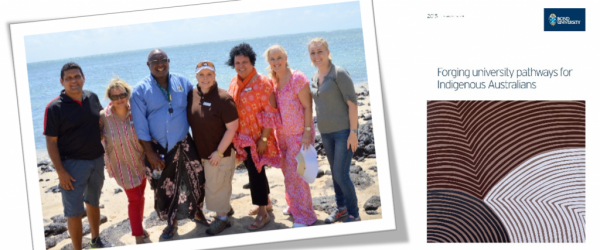 ISS offers Indigenous scholarship in partnership with Bond University
ISS Facility Services has partnered with Bond University for the 2016 and 2017 academic year to provide opportunities for two Aboriginal and Torres Strait Islander students to study for a Diploma of Business at Bond University.
This partnership helps to create the link between high school and long term career prospects, whilst helping to 'close the gap' and create equal opportunities for Indigenous students.
After the recent launch of the ISS Reconciliation Action Plan, this initiative reflects the commitment ISS has to the broader community in affecting change and providing opportunities for Indigenous training and employment.
ISS has been the cleaning provider to Bond University for the last 8 years, and has previously been a sponsor of their Indigenous Gala Dinner to raise money for scholarships and support programs at the University. Now, as a corporate partner to Bond, directly offering a scholarship, ISS is making a difference to the students who will benefit from a Bond University education, but also to their family members, school friends and communities, who may be inspired to follow in their footsteps.
The retention rate for Indigenous students at Bond is now 96%, which is a testament to the scholarships offered from corporate partners and the support program and resources which the University provides.
In consideration of our support, Kim Van Look, ISS Regional GM in Queensland, was recently given a unique insight into the experience on living in the Torres Strait Islands, through an educational tour organised by Bond University. The visit incorporated a five-day itinerary travelling to Murray Island and Thursday Island, with time spent at local primary and secondary schools and informal meetings with community leaders, elders and parents.
Her travelling companions included former Brisbane Lord Mayor Sallyanne Atkinson, a team of Principals from some of Australia's most progressive girls' schools, fellow businesswomen and Indigenous leaders working in employment training and community consultation.
Kim commented on her experience, "We heard from the women of Murray Island about the hopes they have for their children in terms of education and building a meaningful career, but also the very real challenges they face in achieving that. It was also remarkable to be in the company of these dedicated educators and seeing the passion they have for making a difference to the lives of children in their care. From a business perspective, the visit has brought our Reconciliation Action Plan into clear focus; reinforcing the importance of creating a working environment where Indigenous Australians know that we understand culture, we understand their connectedness to community and we respect that," said Kim.
ISS' Reconciliation Action Plan was launched in July, alongside our partnership with the Government for their Employment Parity Initiative, where ISS pledged over 1,000 jobs for First Australian's. Minister for Indigenous Affairs, Nigel Scullion, held a press conference at the Charles Perkins Centre (a customer of ISS at Sydney University), to make the announcement.
For further details, please contact ISS Australia www.au.issworld.com