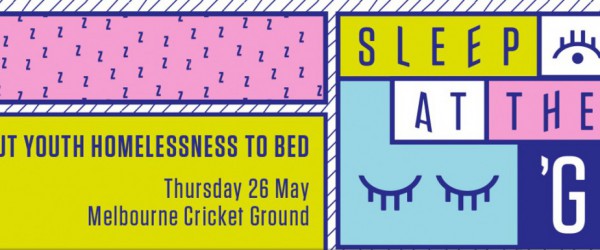 Sleep at the 'G for team engagement
13 April, 2016

Categories:
Melbourne City Mission has now opened registrations for its major annual fundraising event, Sleep at the 'G, on Thursday 26 May 2016.
Announcing that "it's time to put homelessness to bed", the organisation is inviting people aged 18 and over to get a team together and join in this unique, inspirational and memorable event.
Now in its fourth year, Sleep at the 'G attracts more than 1,000 participants and volunteers, who spend the night in sleeping bags on cardboard at the MCG and raise around half a million dollars to support young Victorians experiencing homelessness.
It's a powerful and symbolic way to raise community awareness of this serious issue; around 6,000 Victorians under 25 are homeless on any given night, and just one of Melbourne City Mission's youth services, Frontyard in Melbourne, receives more than 200 requests per fortnight from young people with nowhere to sleep.
Sleep at the 'G participants are provided with a cardboard box for the night as well as soup and bread rolls for dinner. There's live music and entertainment, and a 'movie zone' showcasing films about homelessness.
They each pay a registration fee of $55 (early bird before 22 April), or $80 after 22 April, and are encouraged to fundraise as well, individually or with a team. The registration fee provides an entry pass, a Sleep at the 'G beanie, entertainment, cardboard box to sleep on, soup, bread rolls, coffee, tea and a light breakfast.
Shannon Gilmore, Corporate Partnerships Manager at Melbourne City Mission, shared with the GoodBiz Network "Sleep at the 'G gives you the opportunity to create a unique bonding experience with your team and event participants. Our partners actively participate in the event by sending teams and actively fundraising. This is a great way to improve team engagement and encourage cross department participation".
"In a survey conducted after the 2015 event, our partners have indicated that participation provides a unique opportunity for a team to have a very different conversation, creating a strong team culture in the workplace, in turn improving productivity. We have developed a short video which features some our corporate teams talking about what they get from the event".
What: Melbourne City Mission Sleep at the 'G
When: Thursday 26 May 2016. Gates open at 5pm and close at 8pm. Gates open for early bird departure from 5am on Friday 27 May.
Where: Melbourne Cricket Club Members Reserve area at the MCG. Entry via Gate 2.
Cost: $55 per person for early birds (until 22 April). $80 per person after 22 April.
Who: Melbourne City Mission with major partners the Melbourne Cricket Ground, Melbourne Cricket Club, VicSuper, and Melbourne Football Club.  Media partners: Network Ten, the Herald Sun, Nova Entertainment.
Info: 1800 626 572 & events@mcm.org.au
Website: www.SleepAtTheG.com.au
Twitter:  #SleepAtTheG  @melbcitymission