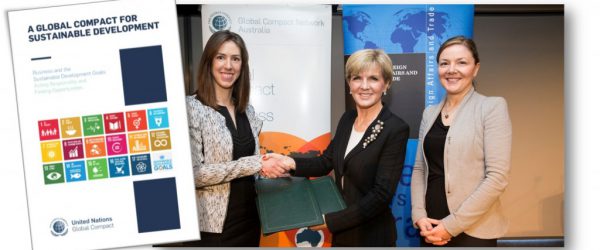 The Business of Sustainable Development and the Sustainable Development Goals
On 25 September, the UN General Assembly adopted the Sustainable Development Goals, setting off a chain reaction of international, national and local action.
This historic moment brought world leaders from 193 UN member states together to adopt a plan for achieving a better future for all – laying out a path over the next 15 years to address sustainable challenges, protecting people and our planet.
The 17 Sustainable Development Goals (SDGs) address the most important economic, social, environmental and governance challenges of our time. They are wide-ranging, covering poverty, inequality, climate change, gender equality, water, education, sustainable cities and infrastructure, food security, sustainable production and consumption – among other issues. Importantly, the SDGs apply to all countries, at all stages of development, including Australia.
Business has a crucial role to play in achieving each of the SDGs – through responsible business operations, new business models, investment, innovation and technology, and collaboration.
As the primary driver of economic activity, sustainable development cannot be achieved without business. The SDGs presents a monumental opportunity for business to align their strategies and activities with global priorities, producing outcomes that benefit society and drive business success.
Why do the SDGs matter to business?
There is a compelling business case for engagement with the SDG agenda. At its core, sustainable development is about addressing unmet needs – poverty, inequality, nutrition, education. There is strong alignment between addressing these issues and fostering stable enabling environments for business, creating more resilient supply chains and building new markets.
The SDGs will also shape the priorities of governments and NGOs – increasingly important partners for business.
There is also significant alignment with the Australian Federal Government's new aid policy — Australian aid: promoting prosperity, increasing stability, reducing poverty — which includes a focus on promoting economic growth and private sector development, and engaging the private sector as partners in delivering development outcomes.
How can companies engage with the SDGs?
The UN Global Compact is the starting point and avenue for companies that want to help advance the SDGs.
The ten sustainability principles of the UN Global Compact are the foundation for any company seeking to advance the SDGs, providing a universal definition for responsible business. If all companies were to take fundamental steps – like respecting human rights, being environmentally responsible and refusing bribery and extortion – we would make enormous progress towards achieving the SDGs.
Companies also have significant opportunities to take additional action to support the SDGs. The UN Global Compact's engagement platforms help mobilise business action on sustainable development challenges, such as anti-corruption, children's rights, climate, food and agriculture, gender equality, peace, rule of law, and water and sanitation.
In Australia, the Global Compact Network Australia (GCNA) has launched a two year partnership with the Department of Foreign Affairs and Trade (DFAT) to drive business engagement in sustainable development and the SDGs.
Under the partnership, the GCNA has established the Sustainable Development Leadership Group, which will provide a platform for business and stakeholders to engage in learning, dialogue and action around sustainable development and the SDGs. The Leadership Group will also provide an interface between business and DFAT, supporting the implementation of the Australian Government's new aid policy, which emphasises private sector engagement and development.
Want to learn more?
If you'd like to hear about the GCNA's Sustainable Development Leadership Group and its activities, get in touch (secretariat@unglobalcompact.org.au) or sign up to the GCNA newsletter.